Putting Slums on the Map
Activists in Buenos Aires seek to improve conditions by including marginalized neighborhoods on official maps.
IRENE CASELLI
Jan 28, 2016
Slums house a tenth of the inhabitants of Argentina's capital, Buenos Aires. Yet until recently they did not appear on Google or on official maps—and some still don't. On Google Maps, the neighborhoods may look like gray smudges. When you type their names into the search bar, often, nothing comes up.
"Not being on a map has a lot of consequences," says Mónica Ruejas, an elected representative of the Los Piletones slum. "It creates a lot of difficulties for us." For example, residents have to make up their addresses at doctor's visits, and can't receive mail.
Sometimes it can even prove fatal. "We always have to give another address in a neighboring area and walk over there in order for ambulances or any services to reach us," says Ruejas. Last year, a 13-year-old boy who had fallen into a cesspit did not survive the 40-minute wait for the ambulance. He lived in the Villa Rodrigo Bueno, blocks away from the exclusive district of Puerto Madero, one of the most expensive areas in the entire country.
An NGO came up with a straightforward solution: helping residents put their villas, as slums are known in Argentina, on the map.
In 2013, the Civil Association for Equality and Justice (ACIJ) created a partnership with the non-profit IT company Wingu and a foundation calledAvina and launched Caminos de la Villa (Ways of the Villa). The digital platform has a double objective: It hosts maps of the villas, and it allows citizens to report cases of public-service gaps, such as in street lighting, sanitation, and paving.
Residents accompanied the project coordinators throughout the villas with handheld GPS devices in order to record every inch of each alleyway. The maps were then digitized and brought back to residents to check for any mistakes or missing areas. Since most villas don't have official street names, neighborhoods are often split into blocks that are marked by letters of the alphabet, while streets are assigned numbers. Gas stations, kiosks, and cafés are used as landmarks.
Once the maps were loaded onto the website, residents were free to report any problem online. Reports appear on the map as a red triangle once they've been submitted and verified. The idea was to have a parallel version of a service that is available in the official city of Buenos Aires: a hotline, website, and app called "147" where citizens can mark an X on a map to report any problems. That service couldn't be used by people who live in off-map villas.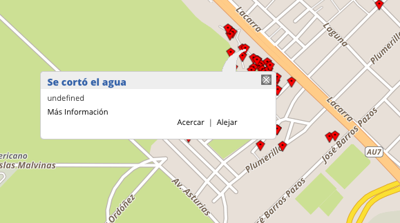 "Not having the locations well-identified was an excuse to not provide services," says Pablo Vitale, a coordinator at ACIJ. "Whenever residents used to file a report about an unpaved road, or call an ambulance, the answer was that [municipal workers] could not reach the place."
Vitale also sees it as an excuse for some to avoid what are considered the most dangerous areas of the city. "Maps highlight the way that the rest of the city feels about villas, attaching stigma to them," he says.
Being absent on official maps is only the tip of a deeper problem: that villas are illegal settlements. But because they host a large segment of Buenos Aires' workforce and are the fastest-growing areas in the city, they present a quandary for national and local authorities.
Over the years, some officials have vowed to create new settlements and move residents to other neighborhoods, investing in social housing elsewhere. Others have promised to improve the precarious living conditions and give villas services equal to the rest of the city.
Caminos de la Villa has already brought about change by mapping 17 villas. Several can now be found on Google Maps, and they have also been added to the city council's maps. "It's helping us prove that we exist," says Ruejas.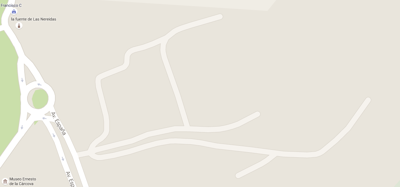 The next step is to highlight which services are available in each villa, and all the community-run projects and services that have been implemented over the years, such as the closed-circuit cable system set up in Villa 31 to access cable and internet.
"Villas are very dynamic spaces; they grow and change thanks to community initiatives," Vitale says. "Starting to show villas on the city's maps is very positive. But the next step is to fully integrate them into the city's fabric."
Podes leer ésta nota en Citylab desde aquí